Argus Weimeraners
Argus Feldmarschall Rommel, JH, SD, NRD x Texmara's Moving On, JH, SDX, NRD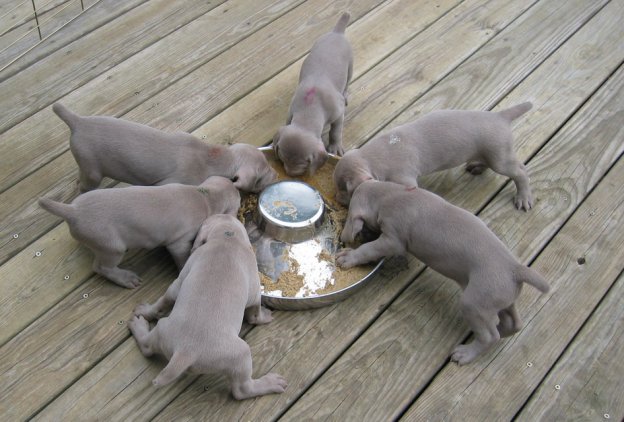 Puppies eating at 4 weeks of age.
Rommel, Argus Feldmarschall Rommel, JH, SD, NRD, is out of the first litter that Carol whelped in 2001. He finished his AKC Junior Hunter title this spring. He also has earned Weimaraner Club of America Shooting Dog and Novice Retrieving Dog Ratings. He has his mother's (FC Starbuck a Covey in the Hand, CD, TD, SH, SDX, RDX, VX) intensity as illustrated in the water shots of him that you can see on this site. He is a retrieving fool. Carol bred Covey to a dog out of old field lines to increase her range. In Rommel it worked. He was field trialed as a young dog and did well, with a win and several placements. His owners are a young couple just getting established and chose to make him a beloved pet and hunting companion.

Flash, Texmara's Moving On, JH, SDX, NRD, is out of proven field lines. Her father is DC Ardreem Wolf von Betelgeuse JH. Her mother is also out of the older field lines. Flash has a gorgeous point and many AKC Field Trial placements. In addition to the AKC Junior Hunter that she earned as a puppy, she also earned Weimaraner Club of America, Shooting Dog Excellent and Novice Retrieving Dog titles. At age five, this is her first litter.

Both parents of this WCA futurity/maturity nominated litter have earned Orthopedic Foundation for Animals Good hip ratings. Three of the four grandparents have OFA Excellent hip ratings. The fourth, Flash's mother has an OFA Good rating. Flash's mother's (WE-5977G39F) and Rommel's father's (WE-6531E31M) OFA numbers do not appear on their pedigrees because they do not have permanent identification. All of this information can be checked at "OFA.org."
NEW! Puppy Pages!
Find out more about Rommel
Find out more about Flash
Find out more about the breeder, Carol Parron
Download the Prospective Owner Questionnaire (PDF).
Contact: Carol Parron at (919) 851-0929 or cparron@bellsouth.net.
All content © 2006 Carol Parron